Today Microsoft have announced a whole raft of upcoming changes to digital workplaces across the globe. Enhancements to profiles, Teams & meetings, Search and Graph were among the top topics on display. Here is a roundup of what we are most interested in coming out of Microsoft Build 2021:
Enrich profiles with information from Workday, SAP and other Microsoft Graph connectors
Long overdue are updates to profiles in the Microsoft eco-system – today Microsoft have announced a way for organisations to enrich profile cards by directly showing information from HRMS systems like Workday, SAP SuccessFactors and more using Microsoft Graph connectors.
Whilst there are a few limitations, this looks like it will deliver a much needed boost to profiles in M365.
Messaging extensions in Outlook
A feature that has become invaluable in some scenarios in Microsoft Teams will be rolled out later this year in the form of Outlook messaging extensions. These extensions allow users to create rich media cards in messages to display powerful contextual information and actions from 3rd party systems.
Commercialise your Microsoft Teams apps
Also on the Microsoft roadmap is a feature that will allow partner organisations to start shipping products through Teams with all licensing handled through an integrated checkout process.
Users will be able to purchase subscriptions of partner apps directly from the Teams Store and the Teams Admin Center (via invoice billing or credit card)—making it even simpler for users to acquire and adopt apps while providing partners more monetization opportunities for your solutions.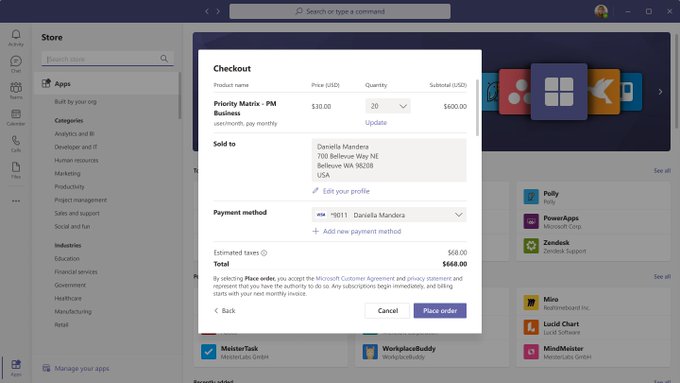 Together mode in Teams meetings
Coming this summer, Together mode extensibility lets you create and share your own custom scenes for Teams meetings. This provides an easy design experience, within the Developer Portal for Teams, so developers can craft custom scenes to make meetings more engaging and personalised for your organization. Heres a custom scene built by the Microsoft team that you can try out today!
A dedicated Org Explorer app that will allow employees to visualise and contextualise their organisation
In every digital workplace requirements document is a requirement for org charts. Until recently there hasn't been great user experiences or functionality in org charts on M365. Microsoft are hoping to change this with what they are coining as an app that "enables users to contextualize, visualize, and explore people and teams around them from within Microsoft 365 apps and services".